Top US Furniture Manufacturer Builds Case Study Spotlighting Cocre8 Project
The Cocre8 Team is honored that one of our top American furniture providers, OFS, chose to highlight a recent design and furnishing project at the 1st Phorm Headquarters.
"When we started working with 1st Phorm leadership, their vision, passion, and commitment to create a world-class headquarters inspired us.  We knew this was a special opportunity to breathe their brand essence into the look and feel – and to create a working environment that sparks excellence.  OFS has been a strong partner of ours for over a decade, and we wanted to bring extraordinary collaborators to this project." ~Nathan Maurer, President of Cocre8 Office Interiors
You can see the full case study on the OFS site.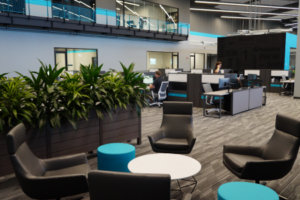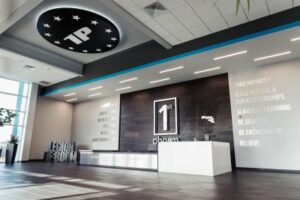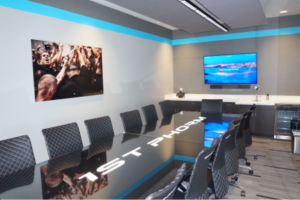 1st Phorm is the premier supplement line in the world, its core mission to "helping people change their lives" through education and hard work, and by focusing on the highest quality formulations for their products. 
"Building something great takes a great team. We wanted to make sure that our culture speaks through the walls.  It's not easy to make our vision come to life, and it seems they did that with ease." ~Sal Frisella, President 1st Phorm
The 184,000 square foot global headquarters is already planning to expand, and currently showcases these amenities:
128 open office workstations
A 228-seat auditorium
14 private offices
4 executive suites
5 large conference rooms
12 small breakout Zoom rooms
4 large breakout rooms
6 open office collaboration spaces
Facebook Live studio
Podcast studio
2 chair barber shop
2 large dining/lounge/entertainment spaces
A cozy reading room/library
Men's & Women's locker rooms that rival any professional sports team!
15,000 sq. ft. athletic performance center
Full warehousing and distribution center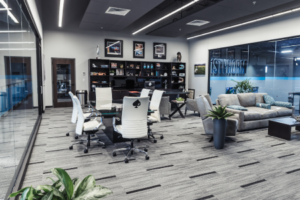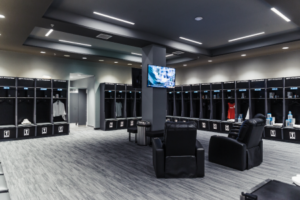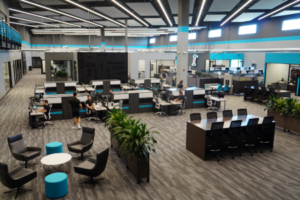 "The work environment is always evolving, and we needed to understand the inner workings of 1st Phorm and develop a modern space that fit their needs today and for years to come," said Maurer.  "When a partner like OFS is willing to actively collaborate with us, the result is a best-in-class creative solution that can truly make a difference in the culture and future of the organizations we work with."
---
Learn more about the Cocre8 "Collaborative Creations" design process or start your project today at www.Cocre8.net.