Amazon's downtown Seattle campus features three glass domes filled with more than 400,000 plants from 30 different companies. At Apple's Silicon Valley headquarters, Steve Jobs insisted on a tree covered campus, planting more than 9,000 trees.  
While most business owners can't afford to install a tropical forest indoors or plant an orchard onsite, taking a few steps to incorporate "biophilic design" means employees and leaders can immediately reap measurable wellness AND business benefits. 
What is Biophilic Design?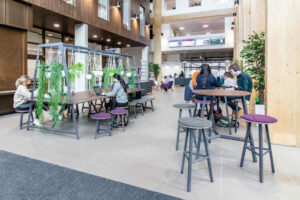 Simply put, it means bringing the outdoors inside. Biophilic design strives to connect a building's occupants closely to the natural world.  
Adding indoor plants, incorporating natural light, and adding natural materials alongside monitors, phones, and drywall can all bring calming elements of nature into the workplace.  
Why is Biophilic Design Important? 
In a study by Terrapin Bright Green, researchers found that biophilic design can reduce stress, improve cognitive performance, and enhance mood and emotion. Among the findings, researchers established that a visual connection with nature can lower blood pressure and heart rate, improve mental engagement and attentiveness and positively impact attitude and happiness. And when employee satisfaction and wellness increases, so does employee retention.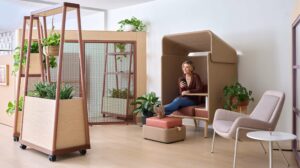 The team at COCRE8 Office Interiors works with leaders, designers, and architects to identify the most efficient and impactful ways to incorporate biophilic design in a workplace. While it takes more vision that simply adding a potted plant to every workstation, including biophilic design does not require a full renovation of your space.  
How is Biophilic Design Implemented? 
Biophilic design can be brought to life in a variety of ways: including opening paths to natural light, incorporating outdoor spaces, and using natural materials in furnishings and office décor.  
Adding plants to the workplace is one of the most low-cost and high-impact elements of biophilic design. Plants instantly transform a space and impact your staff. COCRE8 can work with you to recommend easy care, low maintenance plants that best fit your space.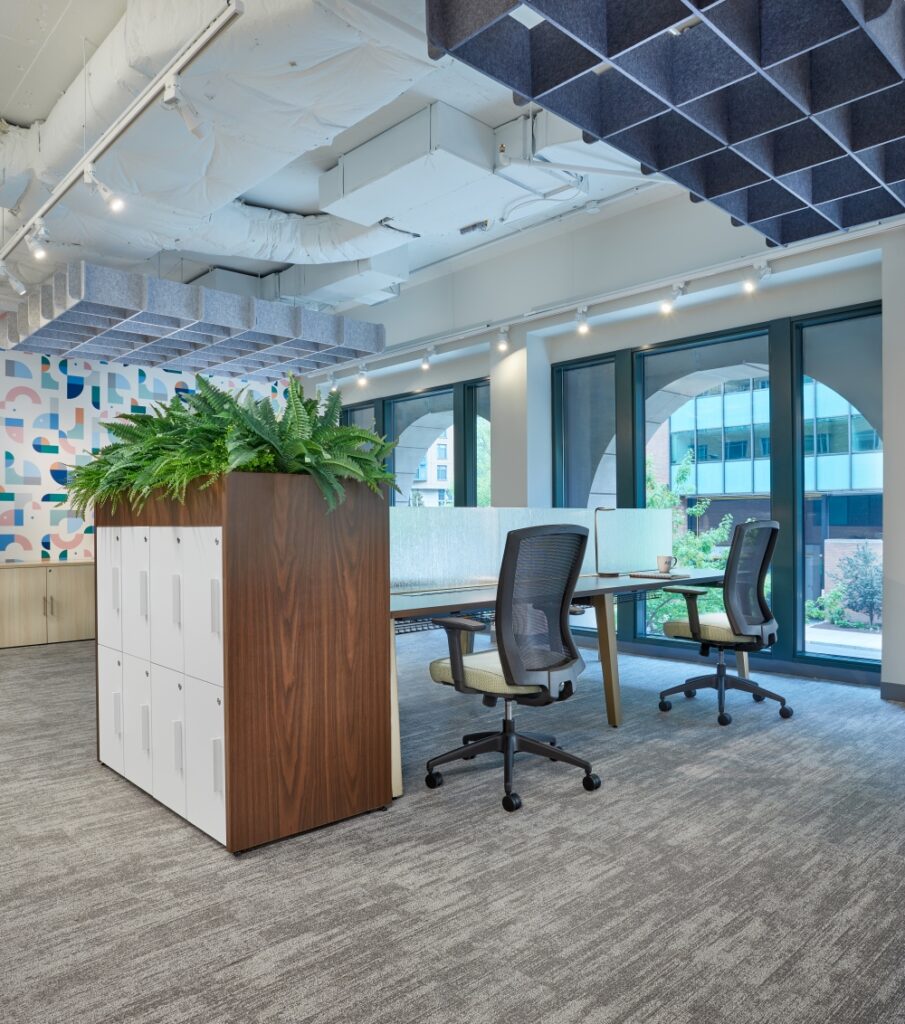 Freestanding dry planters create natural borders around workspaces and offer an alternative to panels for dividing space. Dry planters use artificial plants so they are maintenance free and adaptable to any office environment. Dry planters are available as stackable or freestanding and come in a variety of sizes.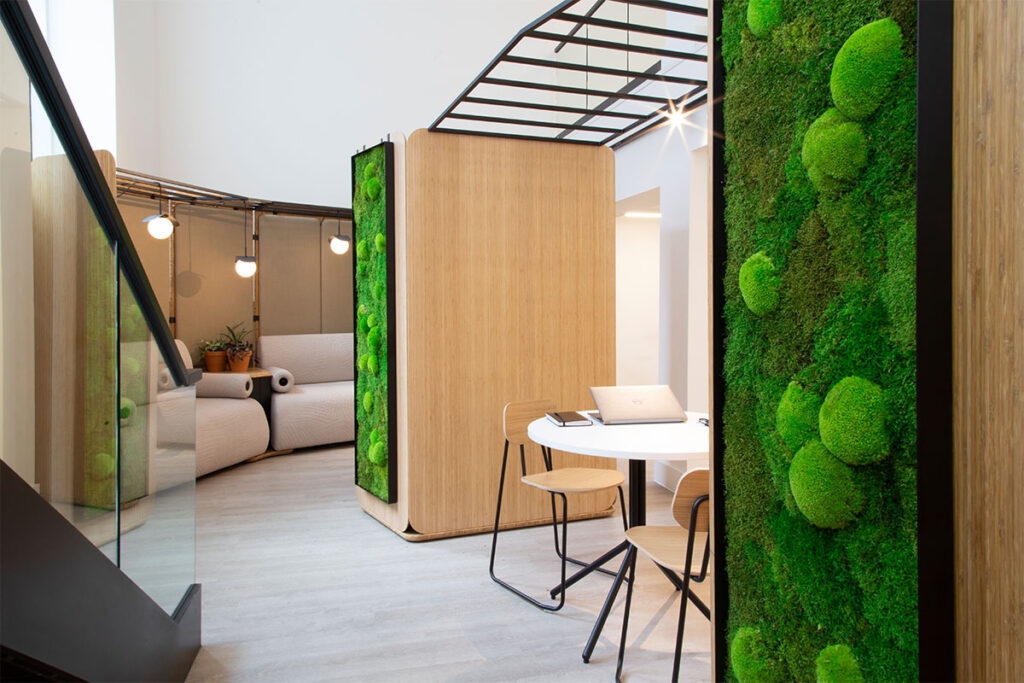 Biophilic partitions and green walls provide a unique way to incorporate plants and create multiple workspaces within an open office plan. These partitions seamlessly combine technology and natural beauty while providing an inviting atmosphere for work. 
If floor space is an issue, living wall planters offer a simple way to bring live plants into the workplace. Mobile planters can be used to separate spaces and reduce noise levels while offering the benefits of greenery.  
Psychologists have found that simply including plants in your office can increase well-being by 47%, creativity by 45% and workplace productivity by 38%.  
 
Other benefits include a reduction in absence rates due to illness, cleaner air, reduced noise levels, and more employees and clients choosing to come into your space and collaborate. 
Take advantage of this simple, affordable way to upgrade your workplace without a major renovation. The team at COCRE8 will create a strategy for adding biophilic design to your workspace while embracing the vision of your company and brands.